Woodsmere Holdings Corp. has recently assembled and acquired 4 homes at 852, 856, 858 and 860 Orono Ave. These 4 homes are actively being redeveloped for a purpose built strata condominum building developed by Woodsmere Holdings Corp comprised of 120, 1 and 2 bedroom units with a targeted completion date of February 2020.
| wdt_ID | Civic Address | PID | Municipality | Zone Code | Zone Description | Width | Depth | Lot Size | Sales History | Year Constructed | Actual Land Use | 2017 Assessed Land Value | 2017 Assessed Total Value | OCP |
| --- | --- | --- | --- | --- | --- | --- | --- | --- | --- | --- | --- | --- | --- | --- |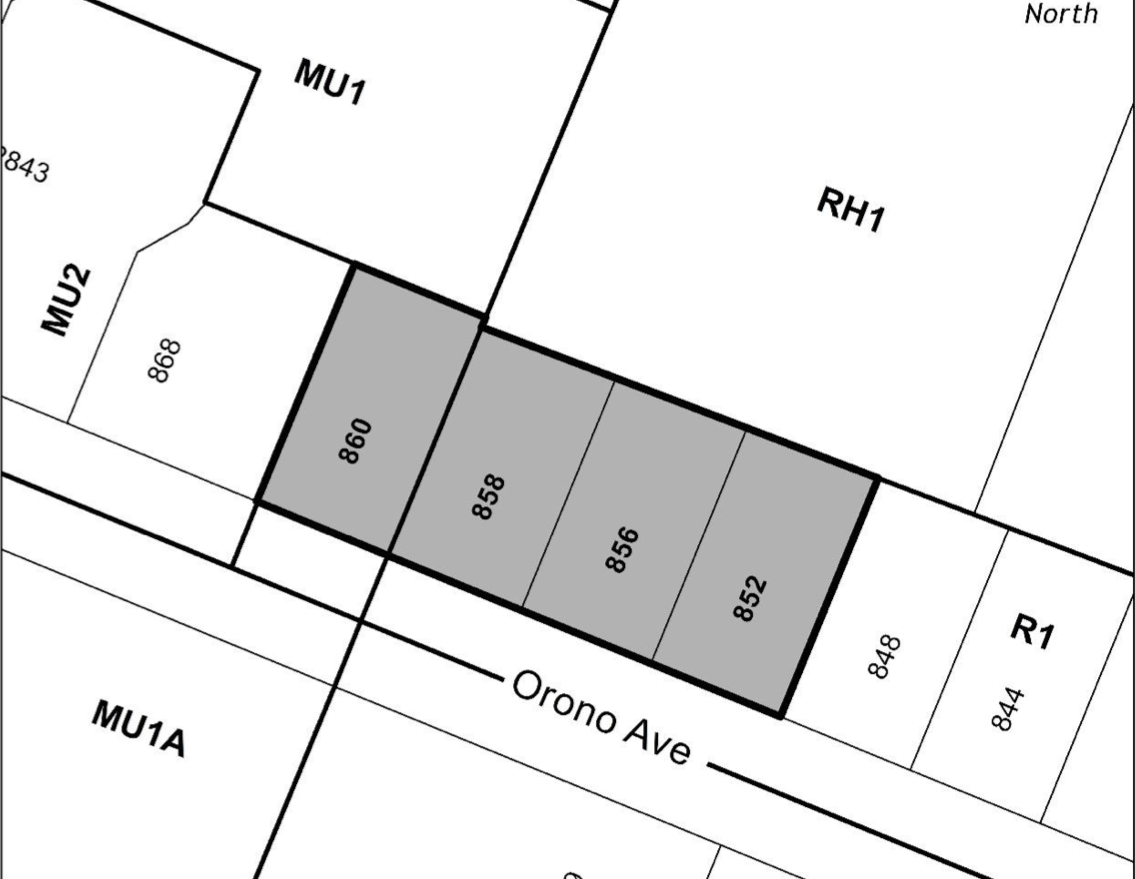 Woodsmere acquired the assembly for a total of $2,141,000 from March 2017 through until May 2018. The lots have mixed zoning between Multifamily Residential/Commercial to Single Family Residential. The OCP designates this site as 'City Centre' within the Downtown Development Permit Area.
On May 22, 2018 achieved first reading to increase the FAR in the MU1A zone to 2.25 if the developer provides 50% underground parking, which can be further increased by increments of 0.25 for every additional 5% so provided, to a maximum FAR of 4. The proposed FAR is 3.2.
A public hearing was held on July 16, 2018 and achieved third and final reading.
Additional, First Reading was granted to amend zoning designation of the R1 single family lot to MU1A Mixed Residential/Commercial and the 860 Orno Ave from MU1 to MU1A. The developer is to provide a community amenity bonus of $750/unit towards the Affordable Housing Fund and $2850/unit towards the General Amenity Fund for a total of $456,000. The General Amenity fund contributions can be reduced by 69% if the developer imposes a 10 year rental covenant on the property from the date of initial occupancy which reduces the total contribution to $196,020. The developer has decided to sell the units rather than a rental building for Phase I building A.
The estimated DCC's for Roads, Park Improvement, CRD Water, and Park Acquisition is $1,048,353.
The applicant has proposed 1 parking stall per unit and 5 visitor parking stalls in accordance with current Zoning Bylaw regulations for parking for a total of 125 vehicle parking stalls. The developer is proposing to provide 7 vehicle parking stalls on an uncovered surface parking lot located in front of building, flanking the entrance to the enclosed parking area that contains 52 resident parking stalls.
Orono at Jacklin, building A is a six-storey, 75-unit strata condominum complex along Jacklin Road at Orono Avenue in the City of Langford on Victoria's West Shore.
Orono at Jacklin, building B is a six-storey, 45-unit complex (TBD rental or strata) along Jacklin Road at Orono Avenue in the City of Langford on Victoria's West Shore.
The developer has engaged Western Canada Properties Group to raise funds in the exempt market from retail investors under the Offering Memorandum exemption. The advertised targeted return is 20%.
The developer has been issued its Development Permit and ground work is underway.