728 Yates Purchase List
| Unit | Number | Street | Bedrooms | Bathrooms | Purchase Date | Purchase Price | 2017 Assessed |
| --- | --- | --- | --- | --- | --- | --- | --- |
| 201 | 728 | YATES ST | 1 | 1 | 2015-04-14 | $215,900 | $336,900 |
| 202 | 728 | YATES ST | 1 | 1 | 2017-05-31 | $357,000 | $310,400 |
| 203 | 728 | YATES ST | 2 | 2 | 2015-03-17 | $0 | $543,000 |
| 204 | 728 | YATES ST | | 1 | 2017-08-31 | $361,250 | $279,100 |
| 205 | 728 | YATES ST | 2 | 2 | 2015-12-01 | $470,000 | $732,000 |
| 206 | 728 | YATES ST | 1 | 2 | 2017-08-14 | $623,000 | $626,000 |
| 207 | 728 | YATES ST | 1 | 1 | 2018-04-03 | $650,000 | $668,000 |
| 208 | 728 | YATES ST | 1 | 1 | 2016-11-07 | $420,000 | $464,900 |
| 209 | 728 | YATES ST | | 1 | 2017-05-24 | $367,500 | $346,400 |
| 210 | 728 | YATES ST | 2 | 2 | 2015-04-07 | $369,900 | $637,000 |
| 211 | 728 | YATES ST | 1 | 1 | 2015-04-14 | $209,900 | $322,000 |
| 301 | 728 | YATES ST | 1 | 1 | 2015-06-24 | $217,900 | $344,000 |
| 302 | 728 | YATES ST | 1 | 1 | 2015-04-07 | $207,900 | $315,200 |
| 303 | 728 | YATES ST | 2 | 2 | 2015-04-07 | $351,900 | $542,000 |
| 304 | 728 | YATES ST | | 1 | 2015-04-08 | $196,608 | $283,700 |
| 305 | 728 | YATES ST | 2 | 2 | 2017-02-28 | $551,500 | $599,000 |
| 306 | 728 | YATES ST | 1 | 1 | 2015-04-13 | $281,900 | $414,500 |
| 307 | 728 | YATES ST | 1 | 1 | 2015-04-09 | $251,841 | $386,700 |
| 308 | 728 | YATES ST | 1 | 1 | 2015-04-16 | $278,177 | $414,500 |
| 309 | 728 | YATES ST | 2 | 2 | 2015-07-16 | $365,900 | $584,000 |
| 310 | 728 | YATES ST | | 1 | 2015-04-09 | $192,732 | $282,600 |
| 311 | 728 | YATES ST | | 0 | 2015-04-01 | $369,900 | $2 |
| 312 | 728 | YATES ST | 1 | 1 | 2015-06-08 | $211,900 | $328,000 |
| 401 | 728 | YATES ST | 1 | 1 | 2015-04-16 | $219,900 | $347,500 |
| 402 | 728 | YATES ST | 1 | 1 | 2015-08-19 | $209,900 | $318,900 |
| 403 | 728 | YATES ST | 2 | 2 | 2015-05-27 | $345,900 | $537,000 |
| 404 | 728 | YATES ST | | 1 | 2015-04-13 | $199,515 | $288,600 |
| 405 | 728 | YATES ST | 2 | 2 | 2018-01-31 | $619,900 | $597,000 |
| 406 | 728 | YATES ST | 1 | 1 | 2015-04-13 | $284,900 | $421,700 |
| 407 | 728 | YATES ST | 1 | 1 | 2015-04-13 | $238,900 | $360,100 |
| 408 | 728 | YATES ST | 1 | 1 | 2015-04-14 | $284,900 | $422,900 |
| 409 | 728 | YATES ST | 2 | 2 | 2016-10-26 | $482,000 | $593,000 |
| 410 | 728 | YATES ST | | 1 | 2015-10-09 | $210,000 | $287,200 |
| 411 | 728 | YATES ST | 2 | 2 | 2015-04-16 | $345,900 | $541,000 |
| 412 | 728 | YATES ST | 1 | 1 | 2015-05-11 | $213,900 | $332,700 |
| 501 | 728 | YATES ST | 1 | 1 | 2015-06-15 | $221,900 | $353,500 |
| 502 | 728 | YATES ST | 1 | 1 | 2015-07-20 | $211,900 | $325,100 |
| 503 | 728 | YATES ST | 2 | 2 | 2015-08-06 | $353,900 | $549,000 |
| 504 | 728 | YATES ST | | 1 | 2015-04-14 | $205,900 | $293,600 |
| 505 | 728 | YATES ST | 2 | 2 | 2015-06-11 | $380,900 | $606,000 |
| 506 | 728 | YATES ST | 1 | 1 | 2015-04-28 | $288,900 | $428,700 |
| 507 | 728 | YATES ST | 1 | 1 | 2015-04-09 | $240,900 | $366,100 |
| 508 | 728 | YATES ST | 1 | 1 | 2015-04-23 | $288,900 | $428,700 |
| 509 | 728 | YATES ST | 2 | 2 | 2015-06-15 | $380,900 | $602,000 |
| 510 | 728 | YATES ST | | 1 | 2015-04-16 | $203,900 | $292,200 |
| 511 | 728 | YATES ST | 2 | 2 | 2015-06-02 | $353,900 | $550,000 |
| 512 | 728 | YATES ST | 1 | 1 | 2017-05-10 | $361,600 | $338,900 |
| 601 | 728 | YATES ST | 1 | 1 | 2017-05-12 | $349,900 | $360,500 |
| 602 | 728 | YATES ST | 1 | 1 | 2015-04-20 | $213,900 | $327,200 |
| 603 | 728 | YATES ST | 2 | 2 | 2015-08-04 | $361,900 | $558,000 |
| 604 | 728 | YATES ST | | 1 | 2015-04-20 | $209,900 | $302,200 |
| 605 | 728 | YATES ST | 2 | 2 | 2016-01-21 | $389,900 | $612,000 |
| 606 | 728 | YATES ST | 1 | 1 | 2015-04-23 | $292,900 | $434,500 |
| 607 | 728 | YATES ST | 1 | 1 | 2015-04-27 | $242,900 | $368,600 |
| 608 | 728 | YATES ST | 1 | 1 | 2015-04-21 | $292,900 | $433,400 |
| 609 | 728 | YATES ST | 2 | 2 | 2015-11-16 | $389,900 | $611,000 |
| 610 | 728 | YATES ST | | 1 | 2015-04-22 | $205,900 | $298,100 |
| 611 | 728 | YATES ST | 2 | 2 | 2015-07-07 | $361,900 | $560,000 |
| 612 | 728 | YATES ST | 1 | 1 | 2015-06-01 | $220,900 | $339,600 |
| 701 | 728 | YATES ST | 1 | 1 | 2015-04-28 | $233,900 | $366,500 |
| 702 | 728 | YATES ST | 1 | 1 | 2015-03-17 | $221,900 | $335,900 |
| 703 | 728 | YATES ST | 2 | 2 | 2015-06-11 | $370,900 | $564,000 |
| 704 | 728 | YATES ST | | 1 | 2017-05-31 | $352,500 | $304,600 |
| 705 | 728 | YATES ST | 2 | 2 | 2015-11-30 | $398,900 | $623,000 |
| 706 | 728 | YATES ST | 1 | 1 | 2016-12-22 | $425,000 | $440,500 |
| 707 | 728 | YATES ST | 1 | 1 | 2015-04-22 | $244,900 | $377,200 |
| 708 | 728 | YATES ST | 1 | 1 | 2015-04-22 | $296,414 | $441,900 |
| 709 | 728 | YATES ST | 2 | 2 | 2015-11-30 | $398,900 | $619,000 |
| 710 | 728 | YATES ST | | 1 | 2015-05-07 | $205,329 | $304,600 |
| 711 | 728 | YATES ST | 2 | 2 | 2015-06-29 | $370,900 | $568,000 |
| 712 | 728 | YATES ST | 1 | 1 | 2015-04-23 | $226,647 | $348,400 |
| 801 | 728 | YATES ST | 1 | 1 | 2015-05-13 | $241,900 | $372,500 |
| 802 | 728 | YATES ST | 1 | 1 | 2015-04-27 | $228,900 | $339,600 |
| 803 | 728 | YATES ST | 2 | 2 | 2015-09-03 | $379,900 | $577,000 |
| 804 | 728 | YATES ST | | 1 | 2015-04-27 | $202,741 | $311,900 |
| 805 | 728 | YATES ST | 2 | 2 | 2015-08-20 | $407,900 | $629,000 |
| 806 | 728 | YATES ST | 1 | 1 | 2015-05-21 | $300,900 | $447,700 |
| 807 | 728 | YATES ST | 1 | 1 | 2015-04-28 | $246,027 | $381,900 |
| 808 | 728 | YATES ST | 1 | 1 | 2015-04-28 | $300,900 | $449,000 |
| 809 | 728 | YATES ST | 2 | 2 | 2016-01-18 | $407,900 | $627,000 |
| 810 | 728 | YATES ST | | 1 | 2015-05-06 | $208,236 | $310,600 |
| 811 | 728 | YATES ST | 2 | 2 | 2015-05-28 | $379,900 | $578,000 |
| 812 | 728 | YATES ST | 1 | 1 | 2015-05-27 | $235,900 | $355,700 |
| 901 | 728 | YATES ST | 1 | 1 | 2017-05-31 | $353,000 | $382,400 |
| 902 | 728 | YATES ST | 1 | 1 | 2015-05-26 | $234,900 | $346,900 |
| 903 | 728 | YATES ST | 2 | 2 | 2017-04-11 | $389,900 | $583,000 |
| 904 | 728 | YATES ST | | 1 | 2015-04-28 | $214,050 | $318,100 |
| 905 | 728 | YATES ST | 2 | 2 | 2016-01-21 | $416,900 | $641,000 |
| 906 | 728 | YATES ST | 1 | 1 | 2015-04-29 | $305,900 | $444,900 |
| 907 | 728 | YATES ST | 1 | 1 | 2015-04-29 | $248,900 | $385,600 |
| 908 | 728 | YATES ST | 1 | 1 | 2015-04-29 | $305,135 | $443,700 |
| 909 | 728 | YATES ST | 2 | 2 | 2018-05-31 | $650,000 | $637,000 |
| 910 | 728 | YATES ST | | 1 | 2017-04-03 | $355,000 | $315,400 |
| 911 | 728 | YATES ST | 2 | 2 | 2015-05-28 | $389,900 | $585,000 |
| 912 | 728 | YATES ST | 1 | 1 | 2015-04-28 | $242,900 | $361,700 |
| 1001 | 728 | YATES ST | 1 | 1 | 2015-04-23 | $251,900 | $387,200 |
| 1002 | 728 | YATES ST | 1 | 1 | 2015-05-26 | $237,900 | $351,900 |
| 1003 | 728 | YATES ST | 2 | 2 | 2015-08-12 | $399,900 | $594,000 |
| 1004 | 728 | YATES ST | | 1 | 2015-05-04 | $216,957 | $322,700 |
| 1005 | 728 | YATES ST | 2 | 2 | 2015-05-05 | $425,900 | $648,000 |
| 1006 | 728 | YATES ST | 1 | 1 | 2015-06-01 | $310,900 | $453,200 |
| 1007 | 728 | YATES ST | 1 | 1 | 2015-05-04 | $250,900 | $392,900 |
| 1008 | 728 | YATES ST | 1 | 1 | 2015-05-13 | $310,900 | $450,900 |
| 1009 | 728 | YATES ST | 2 | 2 | 2016-10-28 | $540,000 | $647,000 |
| 1010 | 728 | YATES ST | | 1 | 2015-05-06 | $218,895 | $321,400 |
| 1011 | 728 | YATES ST | 2 | 2 | 2015-05-20 | $403,900 | $595,000 |
| 1012 | 728 | YATES ST | 1 | 1 | 2015-05-25 | $245,900 | $367,700 |
| 1101 | 728 | YATES ST | 1 | 1 | 2015-05-27 | $254,900 | $397,400 |
| 1102 | 728 | YATES ST | 1 | 1 | 2015-07-30 | $240,900 | $361,100 |
| 1103 | 728 | YATES ST | 2 | 2 | 2015-11-26 | $411,900 | $606,000 |
| 1104 | 728 | YATES ST | | 1 | 2015-05-06 | $219,864 | $330,700 |
| 1105 | 728 | YATES ST | 2 | 2 | 2015-07-07 | $434,900 | $662,000 |
| 1106 | 728 | YATES ST | 1 | 1 | 2015-05-07 | $314,900 | $463,400 |
| 1107 | 728 | YATES ST | 1 | 1 | 2015-05-28 | $251,900 | $398,400 |
| 1108 | 728 | YATES ST | 1 | 1 | 2015-11-30 | $321,900 | $463,400 |
| 1109 | 728 | YATES ST | 2 | 2 | 2015-10-29 | $495,900 | $659,000 |
| 1110 | 728 | YATES ST | | 1 | 2015-08-27 | $216,224 | $329,400 |
| 1111 | 728 | YATES ST | 2 | 2 | 2015-09-29 | $485,900 | $608,000 |
| 1112 | 728 | YATES ST | 1 | 1 | 2015-07-15 | $279,900 | $376,700 |
| 1201 | 728 | YATES ST | 1 | 1 | 2015-06-15 | $288,900 | $406,200 |
| 1202 | 728 | YATES ST | 1 | 1 | 2018-03-28 | $450,000 | $371,400 |
| 1203 | 728 | YATES ST | 2 | 2 | 2017-04-03 | $587,500 | $618,000 |
| 1204 | 728 | YATES ST | | 1 | 2015-05-11 | $222,771 | $338,700 |
| 1205 | 728 | YATES ST | 2 | 2 | 2015-07-30 | $443,900 | $675,000 |
| 1206 | 728 | YATES ST | 1 | 1 | 2015-05-12 | $319,900 | $472,200 |
| 1207 | 728 | YATES ST | 1 | 1 | 2015-05-11 | $253,779 | $407,600 |
| 1208 | 728 | YATES ST | 1 | 1 | 2015-05-12 | $319,670 | $469,900 |
| 1209 | 728 | YATES ST | 2 | 2 | 2015-05-12 | $455,900 | $673,000 |
| 1210 | 728 | YATES ST | | 1 | 2015-05-12 | $222,771 | $337,200 |
| 1211 | 728 | YATES ST | 2 | 2 | 2015-05-25 | $435,900 | $622,000 |
| 1212 | 728 | YATES ST | 1 | 1 | 2015-05-28 | $251,900 | $385,700 |
| 1401 | 728 | YATES ST | 1 | 1 | 2015-06-16 | $262,900 | $413,000 |
| 1402 | 728 | YATES ST | 1 | 1 | 2017-07-31 | $430,000 | $382,400 |
| 1403 | 728 | YATES ST | 2 | 2 | 2015-05-13 | $520,900 | $737,000 |
| 1404 | 728 | YATES ST | 2 | 2 | 2015-08-06 | $529,900 | $812,000 |
| 1405 | 728 | YATES ST | 1 | 1 | 2015-05-13 | $323,900 | $488,900 |
| 1406 | 728 | YATES ST | 1 | 1 | 2015-05-13 | $254,431 | $403,200 |
| 1407 | 728 | YATES ST | 1 | 1 | 2016-09-29 | $442,500 | $488,900 |
| 1408 | 728 | YATES ST | 2 | 2 | 2015-05-14 | $548,900 | $810,000 |
| 1409 | 728 | YATES ST | 2 | 2 | 2016-07-04 | $665,000 | $738,000 |
| 1410 | 728 | YATES ST | 1 | 1 | 2015-05-19 | $255,900 | $395,400 |
| 1501 | 728 | YATES ST | 1 | 1 | 2016-02-15 | $292,500 | $425,000 |
| 1502 | 728 | YATES ST | 1 | 1 | 2015-08-11 | $253,900 | $393,400 |
| 1503 | 728 | YATES ST | 2 | 2 | 2016-03-24 | $519,900 | $742,000 |
| 1504 | 728 | YATES ST | 2 | 2 | 2015-05-20 | $504,900 | $817,000 |
| 1505 | 728 | YATES ST | 1 | 1 | 2015-05-14 | $329,360 | $501,900 |
| 1506 | 728 | YATES ST | 1 | 1 | 2017-01-18 | $360,000 | $406,200 |
| 1507 | 728 | YATES ST | 1 | 1 | 2016-08-31 | $438,834 | $500,700 |
| 1508 | 728 | YATES ST | 2 | 2 | 2015-07-06 | $539,900 | $815,000 |
| 1509 | 728 | YATES ST | 2 | 2 | 2015-05-19 | $505,416 | $744,000 |
| 1510 | 728 | YATES ST | 1 | 1 | 2015-05-19 | $259,900 | $407,400 |
| 1601 | 728 | YATES ST | 1 | 1 | 2016-07-29 | $498,000 | $551,000 |
| 1602 | 728 | YATES ST | 2 | 2 | 2015-06-01 | $542,900 | $853,000 |
| 1603 | 728 | YATES ST | 2 | 2 | 2015-05-20 | $571,333 | $948,000 |
| 1604 | 728 | YATES ST | 1 | 1 | 2015-05-21 | $363,207 | $560,000 |
| 1605 | 728 | YATES ST | 2 | 2 | 2015-05-21 | $590,380 | $947,000 |
| 1606 | 728 | YATES ST | 2 | 2 | 2015-05-21 | $561,810 | $881,000 |
Era Condo Building Review
Era is situated on the north side of Yates Street midblock between Blanshard and Douglas. Era comprises of 157 units over a 15 storey steel and concrete tower with ground floor commercial retail.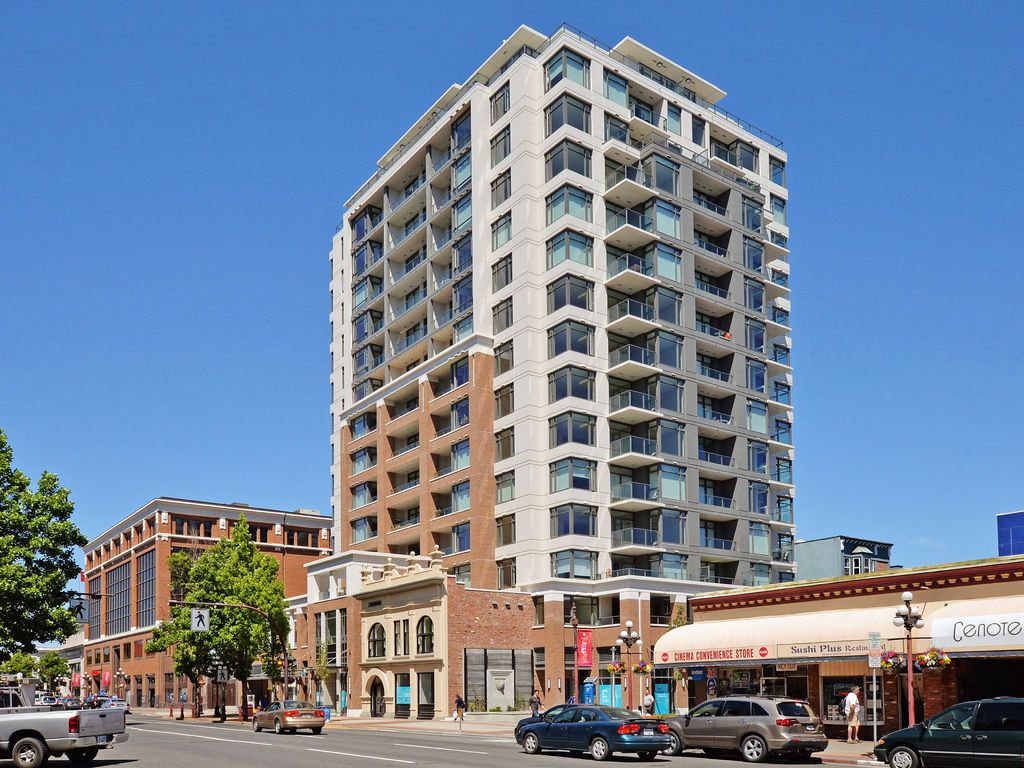 This building has become extremely popular among investors because short term vacation rentals are permitted. Small pets welcome too. Secure underground parking, storage locker, bike storage and a great common terrace & meeting room. All situated in the heart of downtown with a perfect walk score of 100.
Studios are about 475 square feet, one-bedrooms are a little larger and two bedrooms range from about 750 to just over 900 square feet. All the two-bedroom units and some of the larger one-bedrooms will come with underground parking. Studios and smaller one-bedrooms don't include parking.
Era Feature Sheet Available Here
Era Sales Stats 2017 / 2018
One bedroom units are extremely popular at the Era. In 2017 all but one listing sold for above ask, with the average sale price being 10% above list price. The one-bedroom units were solid investments for those who initially purchased pre-sale from the developer at an average price of $261,000. Pre-sale studios average $218,000 back in 2013/14. Today the average one-bedroom unit is fetching $414,000 (although no more Buyer's paying over ask in 2018)!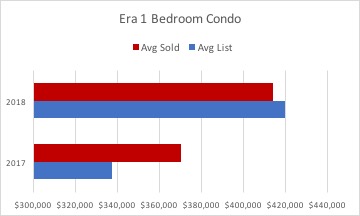 1 Bedroom Overview
2017
2018
Avg List
$337,450
$419,400
Avg Sold
$370,267
$414,000
Sell>List
110%
99%
Typical one-bedroom floorplan.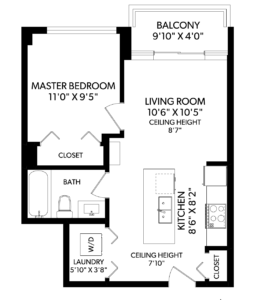 ---
2 Bedroom Overview 2017 / 2018
The 2 bedroom units are less abundant on the re-sale market, but also performed extremely well in with an average sales price of $595,500 in 2017, and $681,000 in 2018. The average pre-sale price of these units in 2013/14 were $432,000. As with many new condo buildings, the one-bedroom outperformed any other unit type on absolute investment return.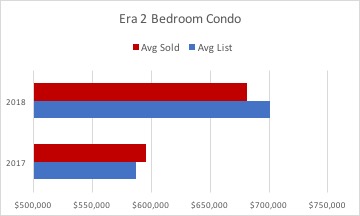 2 Bedroom Overview
2017
2018
Avg List
$586,825
$700,817
Avg Sold
$595,475
$681,417
Sell>List
102%
97%
Strata fee's are reasonable in this building at approx. $0.43 / SF.
Typical two-bedroom floorplan