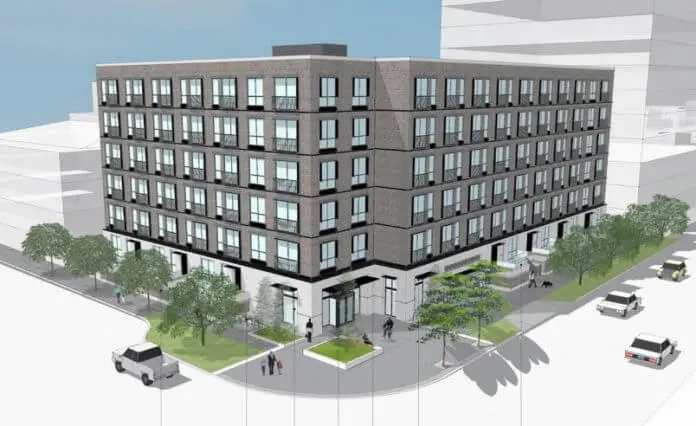 Gordon Nelson of Vancouver has purchased a significant sum of land in the Harris Green neighbourhood. Initially the company acquired the former recycling site in 2016 for $5,775,000.

The site is 21,780 square feet, and the developer is proposing a 6-storey 73,830 sqft building (3.39 FAR).
The Site presents some significant Geological challenges as a result of its proximity to the Juan De Fuca fault line. The developer is thus requesting a parking reduction from the required 56 stalls to a provided 41 stalls and a variance for the rear yard setback in order to minimize the excavation depth and associated complicated excavation and shoring requirements. The recently completed Jukebox development at 1029 View Street faced many similar geotechnical issues (underground creek) and required deep piles/caissons that sometimes did not hit bedrock.
Gordon Nelson is proposed 154 rental units on this combined site. The Studio Units (24 total) and One Bedroom Units (101 total) will target household incomes of $35,000 (+). The Two Bedroom Units (16 total) and Two Bedroom Garden Units (7 total) will target couples with household incomes of $60,000 (+). The Three Bedroom Units (6 total) will target families with household incomes of $70,000 (+) by delivering modest and efficiently designed layouts.
The plan is being reviewing by city staffers and begin the rezoning process.