Tri-eagle Developments, an experienced local builder of residential and commercial properties has recently received third and final reading for its next project.
The site – 4 lot assembly
Civic Address: 3914 Shelbourne St, 1540/1546/1550 Stockton Cres.
Site area: 4,247 square metres or ~45,714 sqft
Existing use: Office building (DFH Real Estate) and 3 single family detached
The office building at 3914 Shelbourne has been owned by Tri-eagle for many years. The homes were assembled over time.

1540 Stockton transacted for $750,000 in December 2017.
1546 Stockton transacted for $700,000 in December 2017.
1550 Stockton transacted for $750,000 in November 2018.

The site is 1.2 kilometres from University of Victoria.
The rezoning
On March 9, 2020 the subject properties were successfully rezoned from the C-4 (Office Commercial) Zone and the RS-6 (Single Family Dwelling) Zone to CD-7SS (Shelbourne Stockton) Zone to construct one, six-storey mixed use building with 65 residential units, including four live-work units, and one four-storey residential building with 37 units above one level of below grade parking.

The OCP for and Shelbourne Valley Action plan both align with the application, and that the land was designated for 4-storey mixed use on 3914 Shelbourne, and 4-storey residential on the Stockton properties.
The development
Building A will be the mixed-use building with 4 work-live units at ground and 61 residential units above, located at the intersection of Shelbourne & Stockton.

Building B will be purely residential use with 37 units, and located along Stockton.

Both buildings will share a single access ramp to the underground parkade. The parkade offers 99 stalls + 10 visitor stalls + 2 accessible stalls. The parkade will have conduits for level 2 EV charging.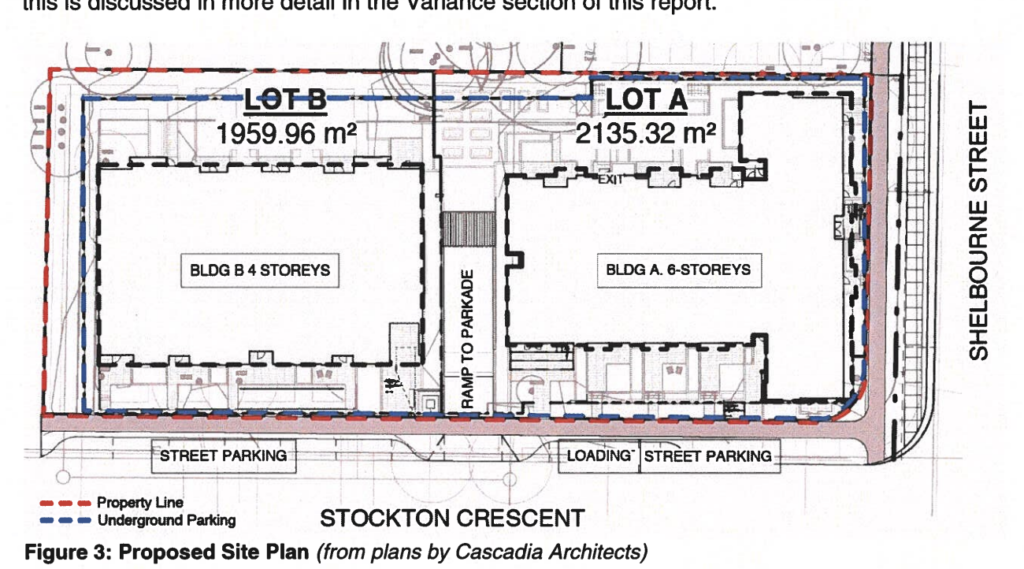 This market housing development will provide a variety of studio, one-bedroom, two-bedroom, and three-bedroom units for the community.
As per the 2020 Building Bylaw, the building will be built to Step 3 BC Energy stepcode for high energy performance.