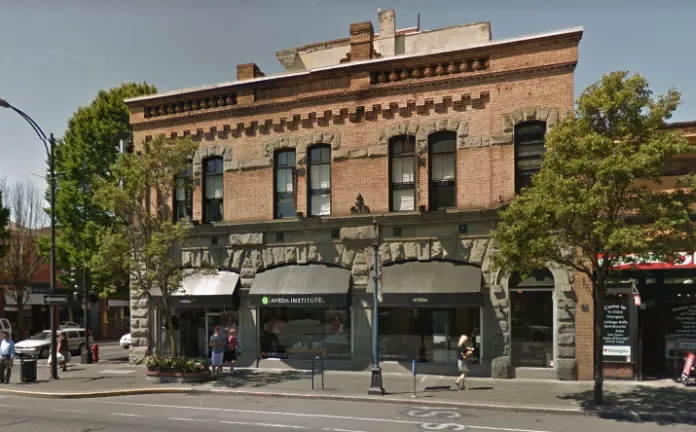 A re-zoning application has been submitted to the City of Victoria for a Cannabis Retail Store at 1402 Douglas Street. The current owner, tenant, and operator is Paul De Costa Salon, doing business as the Aveda Institute Victoria.
An agreement is in place to lease a portion of Aveda's current space to Farmacy, an established Cannabis retailer currently operating out of a retired bank building at 3055 Scott Street (Hillside & Shelbourne area).
The proposed downtown Farmacy location will have a 1,077 sqft retail storefront with a separate entrance off the busy Douglas street. Aveda will continue to operate in the remaining  ~1,600 sqft portion of the heritage building.
Because the premises are being subdivided from an existing larger space, a separate front door is being installed. Paul and Roxanna De Costa have applied for a Delegated Heritage Alteration Permit to restore an original entrance fronting Douglas Street. An elevation of the proposed alteration, as well as a photograph of the existing facade are shown below.
The application is expected to go to city council by March or April 2017. City Council will use its discretion to determine if they will relax the 200 metre buffer requirements. A competing dispensary, Weeds, is operating at 1601 Douglas Street, which is only 150 metres away.
Victoria City Council has not given any approvals or rejections to any dispensary that has taken the liberty to go through the $7,500 re-zoning process. Unlike the City of Vancouver who has over 20 approved applicants, and many rejected applications that are being appealed.
Weeds submitted their application on Jan 17, 2017. Farmacy submitted their application Jan 13, 2017. It is unclear if the Farmacy application will set priority. City of Victoria has advised me these are not being treated on a first come first serve basis, but will be up to Council to assess the merits of each applicant.