Update: june 2020
The project was given the green light to proceed to public hearing, despite pushback from council on affordability.
The applicant explored the option of working with BC Housing to secure on-site affordable rental housing and discussed the potential for affordable home ownership units managed by the Capital Regional District. Ultimately the applicant has decided not to incorporate affordable housing into the proposed building because the project does not fit any current BC Housing Program and integrating affordable housing would require a full redesign of the building
Instead, the applicant is proposing a cash-in-lieu contribution of $161,356.80 towards the Victoria
Housing Reserve Fund. This amount is based on the value of the subsidy the applicant was
proposing for a new daycare facility within the adjacent building, located at 380 Cook Street.
The Proposal – 48 condo units 
Aragon Properties of Vancouver is actively investing and developing in Greater Victoria. The company is behind the new Esquimalt Town Square, 755 Cordova Bay Road, Lampson English Inn, and Cook Street Village developments.
Aragon recently submitted a rezoning and DP application to the City of Victoria for review. Prior to the submission the developer consulted with the Fairfield Gonzales neighbourhood on 5 occasions to refine the project.
The Lands 
| | | | |
| --- | --- | --- | --- |
| Address | Size (SF) | Zone Code | Purchase Price |
| 1044 Pendergast | 6,345 (47×135) | R-K | $1,000,000 |
| 1048 Pendergast | 6,345 (47×135) | R-K | $1,000,000 |
| 1052/54 Pendergast | 6,345 (47×135) | R-K | $1,000,000 |
| 324 Cook St | 11,907 | CR-3M | $4,124,000 |
| TOTAL | 30,942  |   | $7,124,000 |
The sale closed on August 31, 2017 and was a brokered deal between private investors (US and Canada).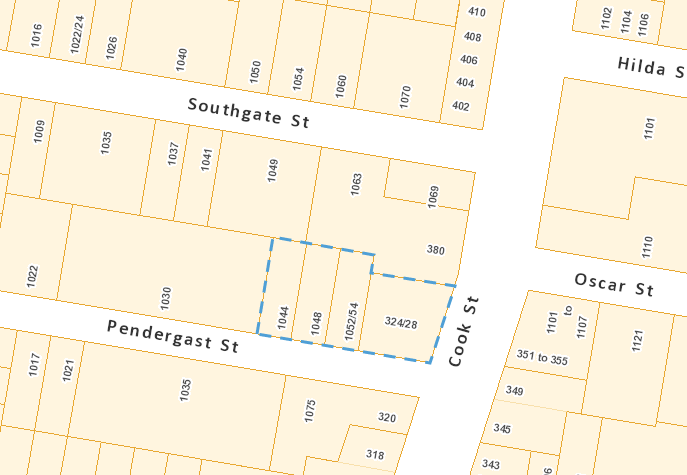 The four parcels encompassed by the proposal are 2,875 sq.m. in total area and are currently occupied by 3 detached houses (none are registered or designated heritage) and a one-storey commercial building.
The Development Proposal
The site is planned to be rezoned for a 4-storey plus mezzanine mixed use commercial and residential building.
| | |
| --- | --- |
| Site Area | 30,942 SF |
| Floor Space Ratio (FSR) | 2.19:1 |
| Buildable SF | 67,763 SF |
| Price/Buildable | $105/pbsf |
| Parking Stall | 80 surface/underground |
This is one of the first sales in Greater Victoria in 2017 to break the $100/pbsf threshold. Not surprising given current market conditions and fantastic location of this property.
Residential Component
| | |
| --- | --- |
| One Bedrooms | 11 |
| Two Bedrooms | 26 |
| Three Bedrooms | 11 |
| Total # Units | 48 |
All units that are 732-795 sq.ft. will be one-bedrooms, twobedrooms are 1,064 to 1,471 sq.ft., and three-bedrooms are 1,265 to 1,660 sq.ft
A mezzanine floor is proposed at the north west corner of the building. 3 suites on level 4 will have individual mezzanine space and outdoor roof top patios facing south. The concept for this 5th floor space was developed in direct response to from neighbours at 380 Cook Street, as it allows an increase in the setback between the 2 buildings by shifting floor area from levels 1-4 to the mezzanine.
The project will include at grade parking off Cook Street and underground parking accessed from the south side of the property along Pendergast to provide a total of 88 parking stalls for the 48 residential units and 5,400 sq.ft. of commercial space. Additionally, secure bicycle rooms well-located at grade and in the parkade will accommodate the required 51 Class-1 bike racks. 12 additional Class-2 racks are located at the Cook and Pendergast frontage and at the parking area accessed off Cook Street.
The city of Victoria parking requirement for this project is 85 parking spaces. Parking study conducted by Watt Consulting suggests the proposal satisfies parking demand.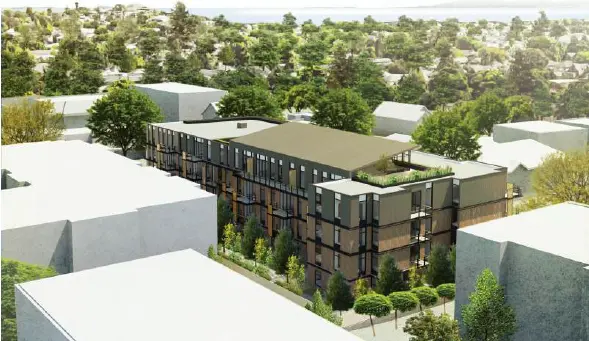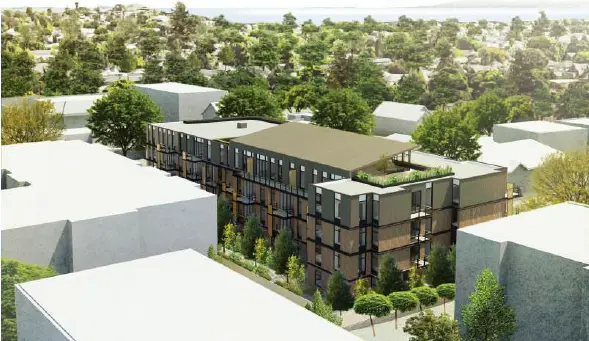 Community Amenity Contributions
CAC Contribution -$136,163.47 – As suggested by the OCP and included in the original application.
Affordable Housing Contribution – $161,356.80
Discounted acquisition of unit #2in order to allow for Cook Street Activity Center Expansion – $181,250.00
Full support with the relocation of the existing tenants on site, including hiring a 3rd party relocation consultant to help them find a new home which meets their budget and requirements, full payment of moving expenses, and financial support above what is required by current city policy and best practice.