Victoria secured hundreds of millions of investment dollars and development activity despite the headwinds of the COVID-19 pandemic. The Westshore communities (Langford, View Royal, Colwood) continue to shine as an active hub of development and growth. The province also stepped up as a top buyer this year with the acquisition of properties for affordable housing, homeless sheltering, and long term care facilities.
Here are the top 10 commercial real estate transactions sorted by transaction size.
1. 945 Reunion Avenue, Langford
The scoop: The largest investment deal of 2020 in Greater Victoria. The 'Crossing At Belmont' is the rental component of the new large format super regional shopping centre, Belmont Market. The sale was unique in that it was for an air space parcel. This means Ledcor retained the main floor commercial and only sold the air space above. The rental units have condo-like amenities with in-suite washer/dryer, high end appliance packages, modern finishings, and amenity space. This building is one of the first to introduce a rent-to-own program for tenants to save down payments to purchase across the street at the Belmont Residences strata building.
Belmont Market is a landmark 160,000 sqft outdoor shopping centre with anchor tenants like Thrifty Foods, Scotia Bank, and Anytime Fitness.
2. 2861 Craigowan Road, View Royal
Price: $54,000,000
Site Area: 688,248 sqft or 15.8 acres of peninsula. Waterfront on all sides.
Improvements: 161 units
Vendor: Realstar Group
Purchaser: Killam REIT
The scoop: A spectacular, unique, and peculiar property in View Royal. The Christie Point Apartments is a unique property that is on its own peninsula in Victoria's Portage Inlet. The waterfront property offers a variety of low density buildings originally constructed in the mid 1960's. The improvements include 5 two-storey apartment buildings and 4 two-storey townhouse buildings. Located close to transit, supermarket, Victoria General Hospital, Graving Docks, CFB Esquimalt, and the casino. An incredible land acquisition with long term re-development potential.
3. 1085 Goldstream Avenue, Langford
The scoop: The Start on Goldstream is a new construction luxury rental building at the corner of Goldstream & Leigh road. The 5-storey building was completed in 2019 and offers a mix of 1 and 2 bedroom units with high-end features that were typically only reserved for ownership buildings in the past. This transaction represents the continued force of the the Westshore region as a major growth driver in the investment marketplace. At a price per door of $313,554 this transaction and many others like it is a testament that there is no longer a value gap between Victoria and Langford.
4. The Capital Iron Lands, Victoria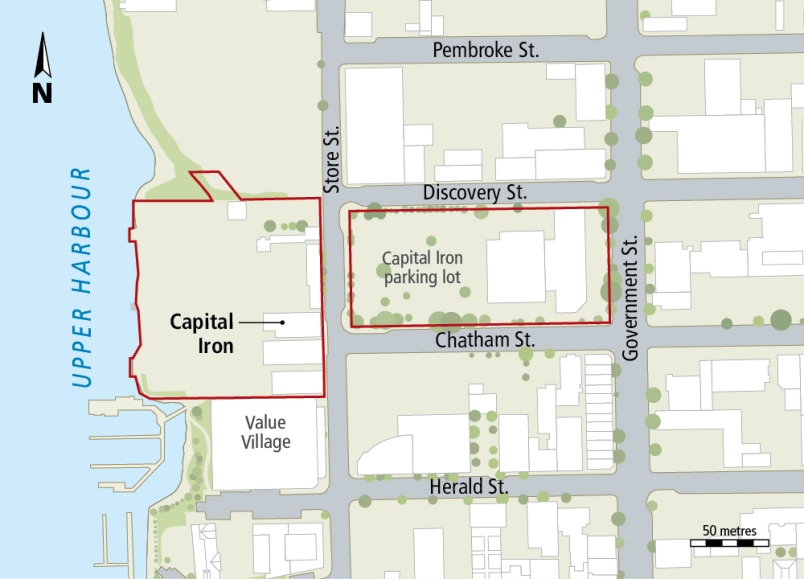 Price: $46,250,000
Site Area: 6.7 acres
Improvements: 7 parcels composed of parking, retail and office.
Vendor: The Greene Family (Capital Iron founders)
Purchaser: Reliance Properties
The sales includes six properties. The Capital Iron building that runs from the foreshore, the two adjacent brick buildings, the Capital Iron Parking Lot at 1907 Store Street, and the retail strip mall 530 Chatham St. The combined parcels make a 6.7 acre assembly in Victoria's vibrant old-town. The property only contains 93,000 sqft of built leasable space, with the remainder being paved parking lots. Reliance Properties is one of the mainstay Vancouver based investors that acquires well situated properties in the downtown core. Reliances portfolio includes Harbour Centre at 910 Government St which it acquired for $60M in 2019, Fairfield Block (currently on the market for $7.85M), the Janion, and Northern 'Junk' buildings.
This is one of the most exciting sales for Victoria. These prime lands are largely underutilized. Reliance Properties has the capacity to bring an exciting new hub to this vibrant old-town / china-town area. Jon Stovell will work closely with the city in its goal for this north downtown area and Lisa Help's plan for an Innovation District. Any project proposal will have a lengthy public consultation and municipal permitting approval process.
| | | |
| --- | --- | --- |
| Address | Size (sqft) | Price |
| 1924 Store Street | 68,960 | $2,752,865 |
| 1908 Store Street | 50,800 + 3,615 | $5,720,317 |
| 1900 Store Street | 25,431 | $7,075,805 |
| 1824 Store Street | 14,630 | $3,281,031 |
| 1907 Store Street | 68,863 | $8,144,980 |
| 530 Chatham Street | 61,570 | $19,275,000 |
| | 292,869 or 6.7 acres | $46,249,998 or $160/sqft |
5. 1910 West Park Lane, View Royal
Price: $39,635,525
Site Area: 2.3 acres
Improvements: 152 units
Vendor: 1138049 BC LTD Limona Properties – John Sercombe
Purchaser: Capital Regional Housing Corporation (Government Entity)
The scoop: Thetis Lake Apartments is a purpose built rental development in View Royal. The project was built on the former Thetis Lake campground and trailer park. Limona Properties rezoned the property in 2017. Both Building A & B are 6-storeys and each offer 16 studios, 38 one-beds, 22 two-beds for a total of 152 units. The CRD is offering 118 of those as affordable units, 34 units as provincial assistance units, and 20 barrier free accessible units The Regional Housing First Program is an equal partnership agreement between the federal government through the Canada Mortgage and Housing Corporation, the province through BC Housing, and the CRD. It was launched to create more affordable rental housing and address the needs of people experiencing homelessness in the region.
6. 2251 Cadboro Bay Road, Saanich
$30,736,000
Price: $30,736,000
Site Area: 3.9 acres
Improvements: 15,000 sf institutional health facility slated for demolition
Vendor: Island Health (Government Entity)
Purchaser: Capital Regional Hospital District Corporation (Government Entity)
The scoop: The Oak Bay Lodge was a 5-storey building constructed in 1972 and initially operated as a retirement community. In the early 1980's the property was converted into a long-term care facility and provided 235 care beds to the region. In 2012 Island Health sought re-development plans for an updated 6-storey 320-bed seniors care facility, but the municipality of Oak Bay quickly shut down any hope. The Oak Bay Lodge closed in July 2020 when residents moved into into a new 320-bed facility called The Summit on Hillside Avenue. The property has now been slated for demolition and a new development proposal will appear in the new year for a public-use project.
7. 2850 Bryn Maur Road, Langford
Price: $30,525,000
Site Area: 0.541 acres
Improvements: 93 rental apartment units
Vendor: Bill Beadle constructed by DB Building Services
Purchaser: Centurion Apartments REIT
The scoop: The Arc is a new construction rental apartment building located at the corner of Bryn Maur Road and Hockley Ave. The 6-storey building uses cross-laminated timber. At $328,226 per door this multifamily apartment building transaction is quickly approaching valuations previously only held by private strata ownership condominiums.
8. 3020 Blanshard Street, Victoria
Price: $18,500,000
Site Area: 120,721 sqft
Improvements: 151 room hotel
Vendor: Cornell Developments Ltd.
Purchaser: BC Housing
The scoop: The Comfort Inn & Suites was silently acquired in May by the province during the heat of the COVID-19 pandemic in the Spring of 2020. The province purchased the property for use as a homeless shelter to relieve over 90 homeless campers residing at nearby Topaz Park and Pandora Avenue. The long term plan is to use the site for affordable housing. BC Housing has partnered with Our Place to run the building.
9. 21 Gorge Road East, Victoria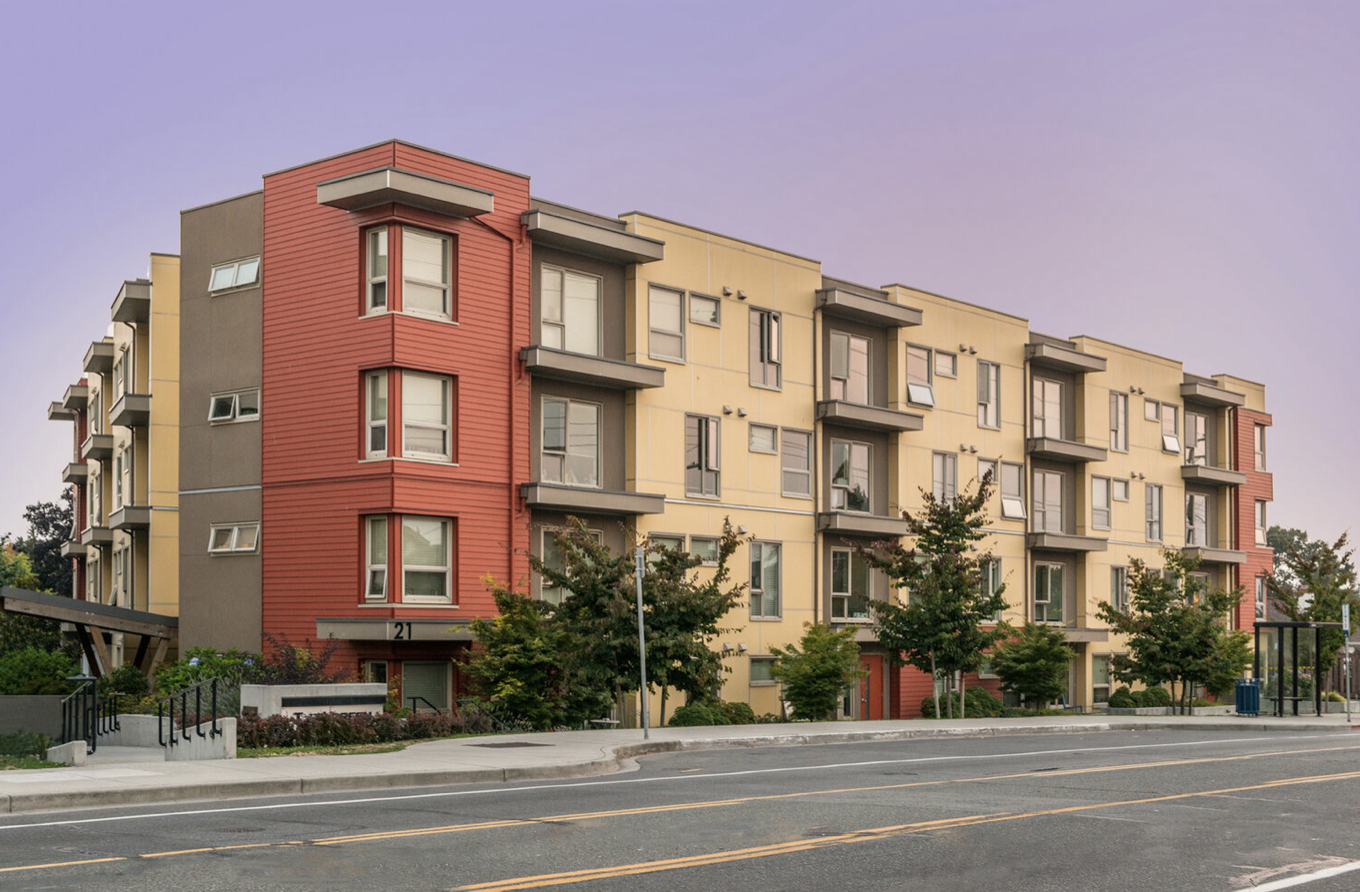 Price: $15,770,000
Site Area: 30,247
Improvements: 52 rental units
Vendor: Greater Victoria Rental Development Society (Non-profit)
Purchaser: Real Homes Management Corporation
The scoop: The Loreen is a 2011 build affordable rental building along Gorge Road. The property is the former Capri Motel, which was demolished in 2009. The property was originally co-owned between private developer Alanna Holroyd, Kaye Melliship, and the Greater Victoria Housing Society. The partnership was dissolved in 2015. The property has now sold to a like-minded company, Real Homes Development / Real Homes Management Corp.
10. 1900 Douglas Street, Victoria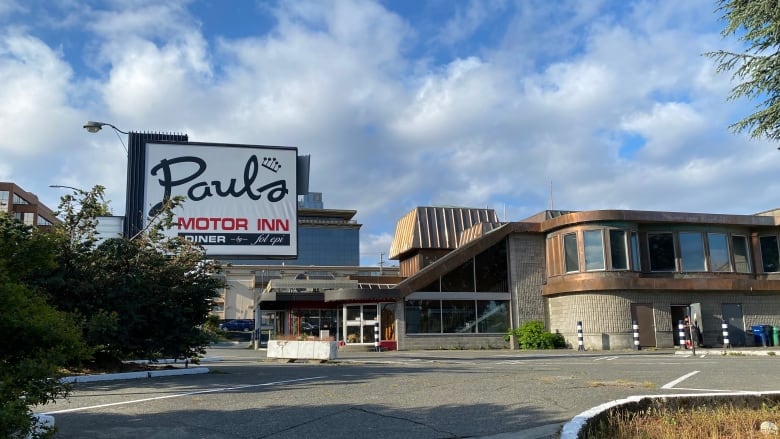 Price: $14,000,000
Site Area: 60,005 sqft or 1.3 acres
Improvements: 75 room motel
Vendor: Paul's Restauraunts Ltd.
Purchaser: BC Housing
The scoop: Pauls Motor Inn was the second hotel acquisition in Victoria made by the province in response to the COVID-19 pandemic. The province purchased the property in June, 2020 for use as a homeless shelter to relieve hundreds of homeless campers residing at nearby Topaz Park and Pandora Avenue. The long term plan is to use the site for affordable housing. Pauls Motor Inn previously leased 35 rooms to the City of Victoria in April for those in need. The tenant destroyed the rooms and hotel. The unique needs and time constraint of the buyer lead to a high valuation for this property. The motel itself was established by Paul and Artie Arsen, who still own the Inn at Laurel Point.