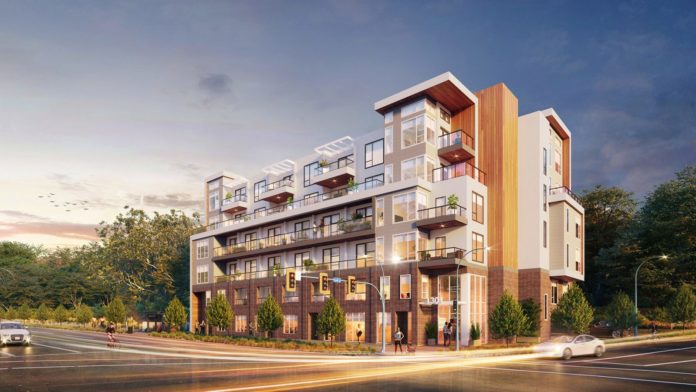 Victoria City Council has approved a rezoning and development permit application to develop a new six-storey, multi-unit residential building with ground floor live-work units. 
The strata ownership units will be a mix of studios, one-bedroom, two-bedrooms. As always, Victoria City Council seeks to add an affordability component to all new projects. However, it is important to note this application pre-dates the Affordable Housing Strategy and the Inclusionary Housing Policy that was adopted by council in July 2019. To give omen to council's appetite for affordable housing, Abstract opted to voluntarily utilize BC Housings Affordable Home Ownership Program (AHOP) for 18% of the units (7-studio, 1-one bed, 1-two bed).
Under the AHOP program a qualified buyer must have a household income that does not exceed the 75th income percentile as determined by BC Housing. According to the applicant, the target incomes under this program would be within the following ranges:

• studios: $35,000- $54,999
• one-bedroom and two-bedroom: $55,000- $84,999
• two and three-bedroom: > $85,000

As part of the program, the City of Victoria would retain the value of the below market discount such that should the below market units be resold at market rates, the City would be provided with a Community Amenity Contribution to the Victoria Housing Reserve Fund to support future
affordable housing development.
The Site – 1301 Hillside Ave
| | |
| --- | --- |
| PID | 001-009-303 |
| Registered Owner | 13* |
| Legal Description | LOT A, PLAN VIP38000, SECTION 4, VICTORIA LAND DISTRICT |
| Zoning | C-SS, Special Service Station District |
| Community Plan(s) | Urban Residential, Neighbourhood Plan: Oaklands, DPA: Corridors, not in ALR |

Structure MULTI-FAMILY (VACANT)
Lot Size: 13392 SQUARE FEET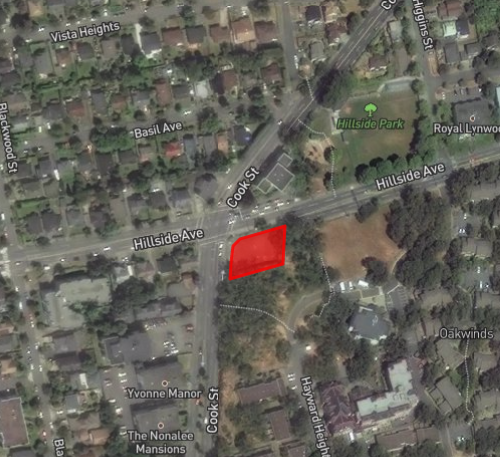 The site was historically a gas station, and is zoned as such. In 2008 it was demolished and remediated by the previous owner UCANCO GENERAL PARTNERS INC., a USA foreign entity operating in St Louis, MO. This group acquired the site in a portfolio sale of Shell Gas stations across the country. The transaction enabled Shell the ability to divest non-core, contaminated real estate, transfer the environmental liabilities to a third party, and guarantee clean-up of the environmental conditions. For more information on the sale read the case study. 
Due to its gas station history, underground parking is not permitted due to provincial environmental regulations. As such, the Certificate of Compliance issued by the Ministry of Environment prohibits subsurface structures as well as at grade residential uses.
An on-site modo vehicle, BC transit eco-pass, bike wash area, e-bike parking, and 14 parking stalls beyond the bylaw requirements.
Sparrow Condo Development
| | |
| --- | --- |
| Site Area | 1,243 square metres |
| FSR | 2.25: 1 |
| Total Floor Area | 2,793 square metres |
| Storeys | 6 |
| Parking | 19 residential + 4 visitor |