A small quaint bungalow once stood at the corner of Bevan and Third St in downtown Sidney, BC. Over the years the surrounding kits developed leaving a lonely single family house on a small 1,750 SF corner lot.
Aryze Developments is a hip local company who seeks urban infill projects that enhance under-utilized and vacant lots. Aryze develops smaller upmarket projects in more compact and walkable neighborhoods which help them do much larger affordable housing projects in other parts of town. 2471 Bevan had its challenges, but was a natural fit for Aryze.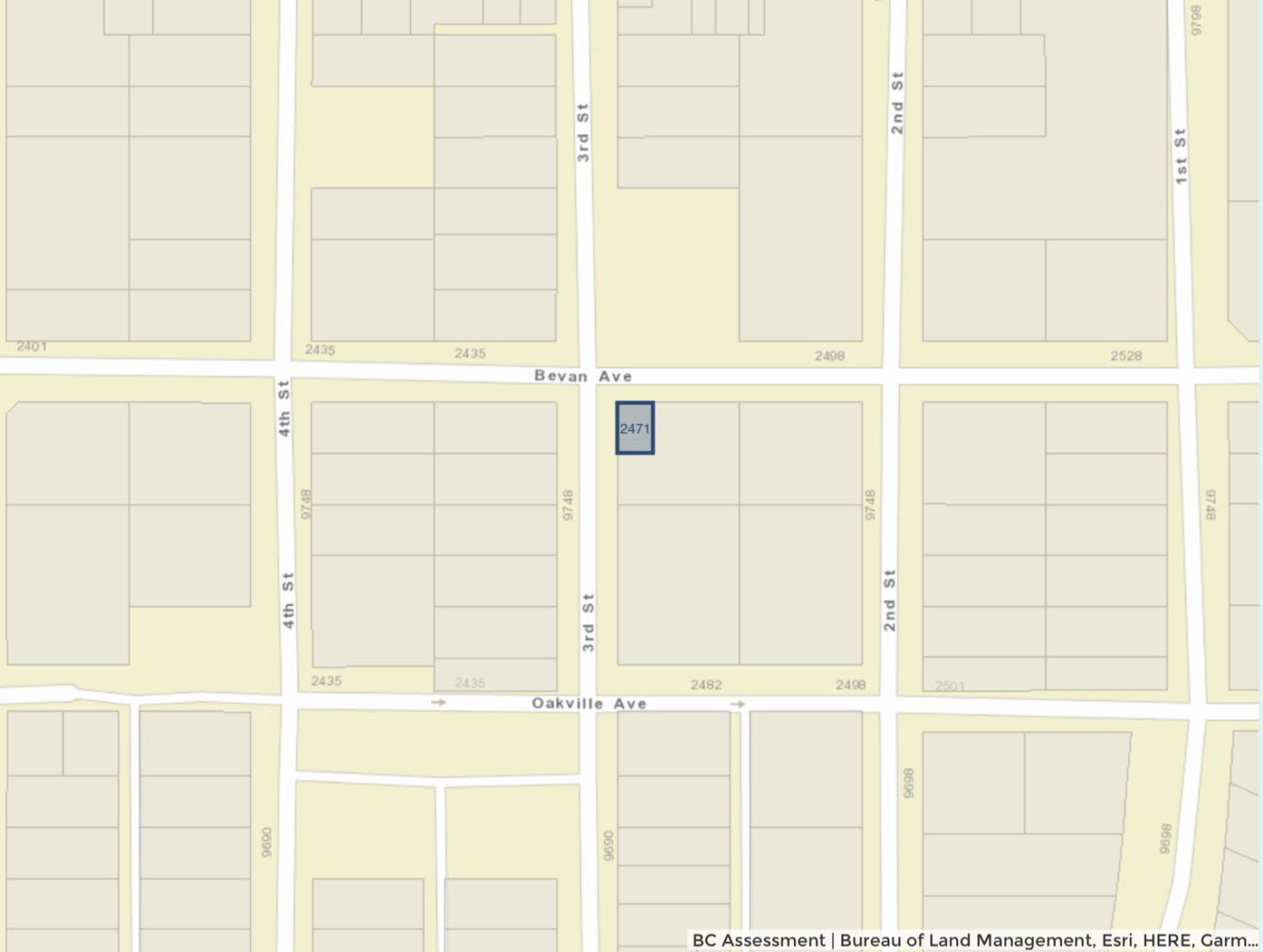 SUBJECT PROPERTY
2471 BEVAN AVENUE
Zoning: C1 Commercial
Lot Size: 35×50'
PURCHASE: JAN 31, 2017 $375,000
Assessed Value 2018: $325,000
The development permit was issued on August 14, 2017. The developer achieved variances to allow for zero onsite parking, residential on the ground floor, a reduction in the number of required three bedroom units, a slightly reduced rooftop access setback and reduced front, side exterior and corner setbacks for the proposed development. Town Staff have undertaken an analysis of the property and note that accommodating parking on-site to bylaw standards (4 stalls) would be extremely difficult, simply due to the limited size of the property. Four parking spaces on the ground level would encompass 39% of the site area and even then there would not be enough space for a maneuvering aisle to allow the vehicles to properly access the street. Underground parking is not feasible on a property this small.
Investment Details
FAR 2.97 (2.4 base + 0.57 bonus)
BUILDABLE SF: 5,198
Land Cost per BUILDABLE SF: $72
TH 1 Corner Unit: Private Elevator & Rooftop Deck – Available
TH 2 Interior Unit: Private Elevator & Rooftop Deck – Available
Unit 1 Live/Work Loft :SOLD
Unit 2 Live/Work Loft :SOLD
Two live/work ground level lofts, with space that is ideal for working professionals, freelancers and small business owners. Flexible C-1 live/work zoning permits a wide variety of uses.
The modern, upper level townhomes combine fresh, open concept design, custom millwork and a rooftop deck with panoramic views of Haro Strait and the Southern Gulf Islands. The homes are private, airy and are designed for maximum natural light.
For more information visit, https://aryze.ca/app/uploads/2017/08/LEEWARD-by-ARYZE.pdf